"Tsunotsuki" is a Japanese traditional event with a thousand-year history where two exceptionally strong-spirited bulls fight with each other. Just as in sumo wrestling where two men compete with all their strength, two bulls that weight up to one ton fight each other to determine which is stronger and more skillful. The tremendous impact of these battles has gained popularity, and tsunotsuki has, up to the present date, has been held without changing its original form.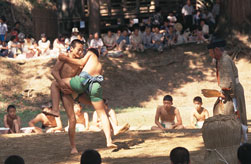 Photoed by Masanori Nakajo
"Tsunotsuki" of Yamakoshi Village (current Nagaoka City) in Niigata Prefecture is the only tsunotsuki that has been selected as the nation significant intangible folk cultural asset. It is known as the only tsunotsuki that does not determine victory or defeat and has been given the status of a Shinto ritual that carries the meaning of dedication to the village shrine. In spite of the name "tsunotsuki," it is characterized by drawing the match when each of the bulls exerts its strength or when their movement stops. Men called "seko" play an important role in the matches. A large number of sekos pull the rope tying both bulls, and the master seko holds the still enraged bulls' nose, which is their vulnerable spot, and stop their fight. When they come to a complete stop, the crowd gives a thunderous applause to the bulls' exciting fight and the sekos' courage. The tsunotsuki match ends here. The sekos' performance is the unique appeal of Echigo Togyu. The culmination of the men and bulls' power, skill, and courage is harmoniously combined with the history and local culture, and a dynamic beauty beyond expression is present.
The "Tanasuhara Festival" is held in Yamakoshi village the every first week of September. Sumo matches and bull fights are held at the same time, and both men and bulls compete to show their strength and skills.

[2012 Schedule of Tsunotsuki event]
Yamakoshi site (Iketani district)


Location:

Yamakoshi site
Date:
March 10th (Saturday),
May 4th (National Holiday), May 5th (National Holiday), May 27th (Sunday)
June 17th (Sunday)
July 15th (Sunday)
August 3rd (Friday), August 15th (Wendnesday),
September 16th (Sunday), September 22rd (National Holiday)
October 8th (National Holiday), October 21st (Sunday)
November 3rd (National Holiday)
Time:
10:00 am Site opens 1:00 pm Event starts
Admission fee:
2,000 JPY (grade school children and under accompanied by parents are free)
Organizer:
Yamakoshi branch office
Contact information:
For additional information, please contact INPC.
Tel: 81-3-5713-1661 Fax: 81-3-5713-1664 Email:info@japan-nishikigoi.org
Ojiya site

Location:

Ojiya site
Date:
May 3rd (National Holiday)
June 3rd (Sunday)
July 1st (Sunday)
August 14th (Tuesday)
September 2nd (Sunday)
October 7th (Sunday)
November 4th (Sunday)
Time:
Everytime stared at 1pm(NOT cancelled in case of rain)
Admission fee:
A General Admission Seat (NOT roofed): 1,000 JPY
A Special Seat (roofed): 2,000 JPY
*The tickets sell on the day of the performance.
Organizer:
Ojiya City Commerce, Industry, and Tourism Division
Contact information:
For additional information, please contact INPC.
Tel: 81-3-5713-1661 Fax: 81-3-5713-1664 Email:info@japan-nishikigoi.org