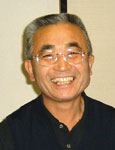 Senichi Mano
Izumiya Koi Farm
Senichi Mano
Chairman of the board of Directors
All Japan Nishikigoi Promotion Associaition

On behalf of the All Japan Nishikigoi Promotion Association, I would like to greet the Nishikigoi fans all over the world.

The All Japan Nishikigoi Promotion Association, which was founded in January, 1970 in conjunction with the holding of the 2nd All Japan Combined Nishikigoi Show, has more than 600 members including Nishikigoi breeders from Niigata and other regions of Japan and distributors. The Association has made efforts to familiarize people overseas as well as in Japan with the beauty of Nishikigoi, Japan's national fish, so they will enjoy the experience of raising healthy and beautiful Nishikigoi.
I am the 6th chairman of the Association; I will respect the accomplishments and trust that the former chairmen have built up and will try my best in creating an association that is loved by everybody.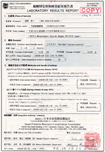 Our biggest mission is to provide everybody with secure and safe Nishikigoi. It all comes down to this. Unfortunately in June 2006, the first-ever case of KHV infection occurred in Niigata. As all of the related parties united together and worked hard, the distribution control was lifted in September, and we were fortunately able to totally eliminate the danger of KHV infected Koi being distributed. We have learned from this experience; we are in full compliance with the safety manual and have been developing further safety control and inspection systems.

We have prepared, especially for exporters and buyers from overseas, a "Nishikigoi Specified Disease Inspection Result Report " which certifies that each breeder's Koi has passed strict KHV and SVC inspections; we hope this will be of use to you.
Recently, some KHV infected Koi that are healed naturally or with the "heating-up" method have been distributed, but we Japanese Nishikigoi breeders have decided that such methods are incorrect ways of handling the disease. As breeders working at the birthplace of Nishikigoi, we believe that our role is to provide only healthy, KHV and SVC free Nishikigoi.
We just love Nishikigoi. That goes for all of the breeders, not only me.
We will keep striving to spread the splendor of Nishikigoi to as many people as possible.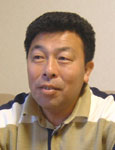 Hisashi Hirasawa
Marudo Koi Farm
Hisashi Hirasawa
Ex-Niigata Regional Director
All Japan NIshikigoi Promotion Associaition
I, Hisashi Hirasawa, have taken the place of Mr. Hajime Isa and have been given the important task as the Niigata Regional Director of the All Japan Nishikigoi Promotion Association. Niigata-born Nishikigoi are now produced not only in Japan but worldwide; we, however, in order to produce the world's most beautiful and healthiest Nishikigoi, make quality soil and water and devote ourselves with passion in utilizing our experience and know-how acquired as "koishi" over the generations. That is how we are able to deliver the true "swimming jewel" to worldwide Nishikigoi fans.

Niigata is the world's largest production area of Nishikigoi. For each breeder born and raised in Niiigata, Nishikigoi are not only a business tool, but they are life itself. Nishikigoi are our family and children, so we work for the health and beauty wherever and whenever we could. We really would like to you visit Niigata once and meet with a number of breeders. By doing so, you will of course have the chance to enjoy beautiful and healthy Nishikigoi, but you will also encounter another great merit: the merit in learning that Niigata is the only production area in which you will find all of the existing varieties of Nishikigoi. Each variety of Koi requires different production and breeding know-how. Every single breeder has a specific know-how, just like a painter, and produces his own unique Nishigikoi. In Niigata, the birthplace of Nishikigoi, there is no Nishikigoi that does not exist.