Featured Breeder
Yoshikazu Otsuka (Otsuka Koi Farm)

---

The Asagi produced by Mr. Otsuka's won the Category Grand Champion at the 34th and 35th All Japan Combined Nishikigoi Show, which established his reputation as an Asagi producer. He has also been enhancing the levels of his Goshiki Showa and Goshoku Sanke and has demonstrated his ability by being ranked as one of the top winners in the "Goshiki Category" at various Koi shows.

---
Otsuka Koi Farm was founded in 1962, but full-time Nishikigoi production was started in 1984 when I came back from training. After graduating from high school, I gained training for 2 years under the guidance of Yokio Isa (Maruyo Koi Farm) who is my father's elder brother. I am quite sure it is the same with other people, but to me "production" is something you learn yourself by watching the experienced breeders. You need to keep thinking to master it. People don't teach you.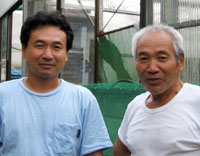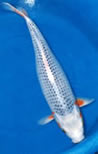 When I took over the Koi business from my father, I had a pond of only approximately 2.5 acres because I was not a specialist, but within in the past 20 years, I increased it up to approximately 11 acres. We now produce many varieties such as Ochiba, Goshiki Sanshoku, Goshiki Showa, Goshiki, Asagi, Kigoi, Gosanke, Chagoi, and the Doitsu lineage. Our best known variety is undoubtedly Asagi, Goshiki Sanke and Goshiki Showa. Our Asagi won the Category Grand Champion for the second time in a row at All Japan Competition. Our Goshiki Sanke and Goshiki Showa have also been ranked runners-up in the Goshiki category and have achieved recognition. People have different tastes in Koi, but I try hard for as many people to enjoy and to be pleased with the Koi I raise. I also would like to produce beautiful Koi that I myself will be satisfied with, despite of what the others say. It would be wonderful if my clients are pleased with Koi that are convincing to me. In the future, I would like to create a brand of Koi that comes into everybody's mind just by hearing the name "Otsuka Koi Farm."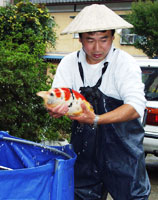 Since Niigata is the birthplace of Nishikigoi, there are many, many breeders. Each breeder is committed to making more beautiful Koi. That becomes a keen competition, which helps to create high-quality Koi. You can't get uniqueness by producing Koi that are same as the others', and you can't win competitions without uniqueness. Everybody works hard everyday to bring out their characteristics and to try to create a new variety. It took about 6 years for me to stabilize my Goshiki Sanshoku and Goshiki Showa. I believe such ambition and rivalry are the strength of Niigata's Nishikigoi and are the reasons of their fascination.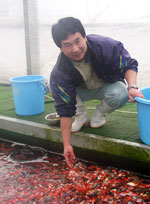 I take particular care in the 2 following points: I try not to overprotect my Koi because they will become weak, but I don't treat them roughly either because they can become sick. To all Koi lovers, keep in mind that you should get a strong Koi from a trustworthy seller and that you should give them lots of love if you want to enjoy them for a long time. I, as a breeder, am always hoping for enduring Koi lovers. I will continue to produce Koi that will satisfy the Koi lovers and will look forward to a long-term relationship.