Featured Breeder
Kentaro Miya(Miyaishi Koi Farm)

---

Miyaishi Koi Farm is a 3-generation Koi business. It was founded by Ishitaro and has been passed on to his son, Tokuzo, and grandson, Kentaro. They have won 2 championships at the Nigata Nogyosai. Among the varieties they produce, their Kin Showa is the most famous and has won various awards at Koi shows nationwide.

---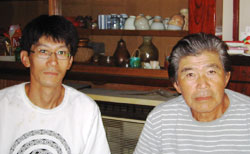 Miyasaka Koi Farm was founded by Ishitaro Miya in 1937. We started to devote ourselves to Nishikigoi in 1963, but we mainly distributed good Koi rather than producing them. After beginning to focus more on production, we have been producing many varieties such as Kujaku, Shusui, Koromo, Ginrin Showa, Doitsu Sanke, Gosanke, Kin Showa. Among them, the Kin Showa made a good start by winning a prize at a show at first meetings. That was a result of having being able to acquire a good female oyagoi the first year we started emphasizing on production. The main point of Kin Showa is their shine. Normally it is said that getting sumi on a shining body is a difficult task, but my Kin Showa shines brightly, has good sumi, and has sleek hi that stand out against a well-rounded body. I believe that's why people enjoy my Koi. Unfortunately, the first female Koi I purchased died in the earthquake of 2004, but in the future I will use her offspring that I've had selected.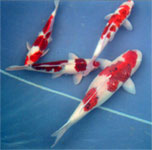 I am very happy to hear that Nishikigoi have become widespread internationally in recent years. I assume that more than half of the Koi produced at Miyaishi Koi Farm are exported overseas, mainly to European countries such as France, Italia, England, Holland, Czech, and Slovakia. Tastes do differ by region. In Japan, people tend to like Koi with abundant shiroji and good patterns, while in Europe, Kawarimono and rather dark-colored Koi are preferred. I find pleasure in knowing that foreigners with different cultures and sensitivity are intrigued with Japanese Nishikigoi, find them beautiful, and therefore raise them with great care. I think Nishikigoi have a fascination that attracts people across borders.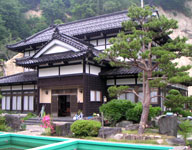 In my earlier years, I wasn't interested in living creatures including Nishikigoi, so after studying distribution, I worked at a company operated by my uncle that dealt with Koi product materials. But one time my father suffered brain infarction, and I suddenly had to work both in Koi production and distribution. By being in continuous contact with Koi, I became fascinated by their charm and finally fell in love with them. My father had to be medically treated for several months. He sometimes came out to the garden to watch the Nishikigoi, which I assume was refreshing for him. I remember him being very happy.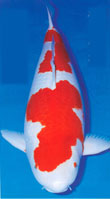 I personally like Taisho Sanke, and I especially focus on the quality of their beni. It is very difficult to make satisfactory Taisho Sanke, so they don't always live up to my image, but that's the interesting part. How can I produce more beautiful and better Koi? I always find myself thinking about Koi. I hope for the Koi lovers to get to know the pleasure of their own Koi's growth and to enjoy raising them for a long time. For that reason too, I will use oyagoi of good genealogy and will cultivate them in a good environment to produce splendid Koi.