Featured Breeder
Masayuki Sekiguchi (Sekiguchi Koi Farm)


---

Sekiguchi Koi Farm is known for having created the Sekiguchi Showa and Pearl Ginrin, but at the same time they are a talented breeder of Showa Sanshoku and have won various awards. Masayuki Sekiguchi, the 3rd generation of the farm, currently takes the lead in producing large and beautiful Showa Sanshoku.

---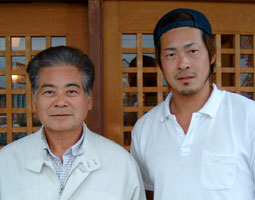 Sekiguchi Koi Farm was founded by my grandfather, Kosuke. He produced Kohaku, Taisho Sanke, and Asagi. At the time my father, Kazuo, worked in the dyeing business, but one time he saw a Koi called Tamagin, a variety with marble-like shine on the scales, and became captivated by Nishikigoi. He then started producing Nishikigoi on the side. The marbles on Tamagin were known to disappear at the age of 3, which was considered a defect, but my father was able to fix those beautiful marbles on their bodies. The marbles kept glowing, and they didn't disappear as the Koi grew. A new variety named "Pearl Ginrin" was recognized. The whole family was thrilled when we won the Governor's prize the first time we sent our Koi to the show. When you actually see our Koi, you would see that the patterns on the scales glow as if they were real pearls.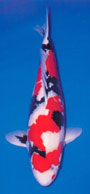 After that, my father left his dyeing business, devoted himself to Nishikigoi, and started making beautiful Showa Sanshoku. The Showa representing Sekiguchi Koi Farm is called Kumaki Showa, and we have won numerous awards with them. Thanks to that, our Showa Sanshoku is still popular, and the production proportion of Showa Sanshoku and Pearl Ginrin is 9 to 1.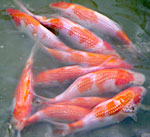 Many Showa are medium-sized; unlike Kohaku and Taisho Sanshoku, simply because it is difficult to make them large. Our latest intent is to create a more jumbo Showa Sanshoku, and we are making improvements to achieve that. From the look of our recent tosai, I believe they will grow and will become Showa Sanshoku of 80 to 85 cm (32 to 34 inches) in length with beautiful patterns. I couldn't be happier if they inspire Koi lovers all around the world. My father and I share the common image of an ideal Koi, and that is the Koi we, Sekiguchi Koi Farm, strive to create. In raising Koi, I make an effort in creating the ideal Koi by learning from my father's experience, acquiring his techniques, and believing in my sensitivity. However, no matter how wonderful my Koi become, I won't give them full marks because a Koishi always should set high goals and do their best in producing better Koi.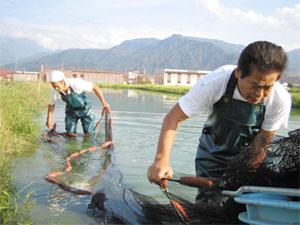 We Niigata breeders work with the government by taking particular care and complete control so that our Koi will not be infected by KHV and such. Niigata Prefecture is the only production district in Japan that tested negative for KHV and is safe and proven. I believe this is because we all want our precious Koi to be loved and cared by many Koi lovers for a long time. Uonuma City, where Sekiguchi Koi Farm is located, is a bit far from Ojiya City which is the center of Nishikigoi production, but our pride and feelings for Nishikigoi are the same. I hope both domestic and international Koi lovers will enjoy raising the Koi I produce.